Increase Adoption of Your APIs
A developer portal acts an interface between APIs and stakeholders, enabling organizations to market and publish their APIs and connect with app developers in a collaborative market.
This portal allows API providers to create and manage a developer community, offering API publishing, documentation, and promotion capabilities. It gives API providers the ability to attract and support developers with a customized, secure online API Portal.
This creates a compelling network of collaborators who, by sharing data and functionality, provide new channels for your business.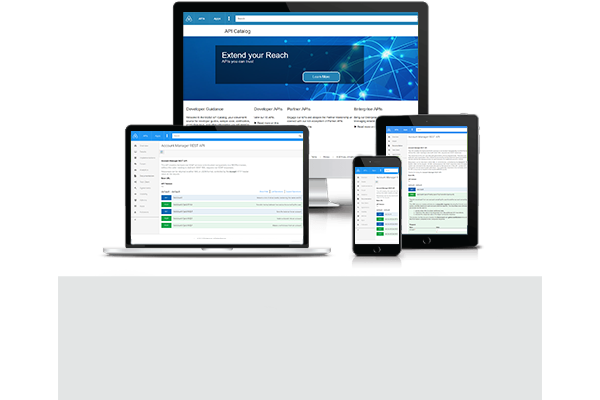 Benefits and Features of Akana API Community Manager
The Akana Developer Portal provides a platform to easily build and engage an API ecosystem to drive business value.
Create a social channel to manage and promote your APIs with developer and partner audiences. Quickly onboard partners, help developers find the right API, and manage approvals for easy access.
Create customized licensing packages for partners and developers to consume your APIs. Maximize your revenue by creating different service levels for unique business needs and usage.
Provide developers and partners with personalized analytics tools, allowing them to track business metrics and identify areas for optimization, growth, and unlock new business capabilities for their APIs.
Community Manager enables administrators to upload and manage API documentation. This reduces the effort involved in authoring API documents with dynamically generated documents.
Guarantee consistent, accurate API production through all environments and stages of the software development lifecycle. Built-in approval workflows ensure quality, reducing the need for management and rework.
Free Trial
Start your 30-day trial of the most secure solution for creating and publishing your APIs.
Strategy Assessment
Get an expert review of your API strategy.
Have Questions About Akana?
Our team of experts is here to help!