Microservices and APIs might sound like fairy dust you sprinkle on applications to make them "agile," judging by today's industry talk. The reality is that they work as the critical foundations for digital transformation only when done right. The goal isn't simply to build agile apps, it's for businesses to gain agility and thrive against the onslaught of digital disruption – and this requires going deeper. Organizations must ensure microservices and APIs add value, and also understand how to put the two together.
Join Ian Goldsmith, V.P. product management for Akana, and guest speaker Randy Heffner, V.P. and Principal Analyst with Forrester Research, for a lively discussion and debate to debunk and set straight the three biggest mistakes that organizations make with microservices and APIs.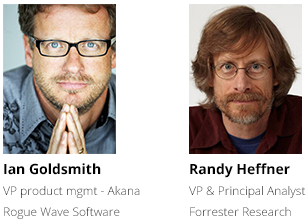 This talk will also include:
Laying out clear definitions of microservices and microservice architecture
Describing the differing business values of different types of APIs
Outlining a foundation for business agility with APIs and microservices
You will walk away with a better understanding of microservices and APIs and be better prepared to drive the right solutions for your organization.
Learn More
Discover the agility of the Akana platform - try free for 30 days!